09.07.2015 Розділи: Медіа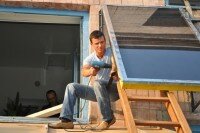 Vitaliy Shramko never though that making solar panels would become his passion. He had always been interested in renewable energy sources, but over the last three years Shramko has been working to educate others about alternative heating energy sources.
A native of Kopyllia village in western Ukraine, Shramko recalls finding a leaflet at home explaining how to make a solar collector. Later he learned that a local youth group, Ecoclub, taught people how to use solar energy for heating water and homes.
"I contacted them and participated in a few workshops," Shramko said.
Over time he learned how to build a solar collector for his home. Three years on, he has built solar collectors for his parents and godfather, and also helped to install a collector at school building in a Volyn Oblast town of 6,500 residents.
"It was interesting for me, because I enjoy making different things myself," Shramko says. Eventually, he became an Ecoclub coach.
Ecoclub, which is based in the western Ukrainian city of Rivne, together with its partners – National Ecological Center of Ukraine, and Vidrodzhennia (Renaissance) ecological organization – started the four-year Switch to the Sun project in 2011.
Funded by the European Union, the teams have since spread to Ukraine's southern and western regions and share practical tips on energy conservation with local activists.
Ukraine wants to become energy independent, thereby alleviating Russia's influence on the country. The project coordinators hope solar heating can contribute to this.
They focused on educating local communities and distributing materials on how to build solar collectors step-by-step. The teams also bring international experts to monitor their construction.
Three years later, regional project coordinator Oksana Maiboroda says the initiative has yielded results.
At least 60 collectors have been installed in Ukraine during the last three years of the project. Besides Ukraine, the project includes Georgia, Moldova, Armenia, Azerbaijan and Russia. In Georgia, for instance, some 212 have been constructed since 2011.
Thanks to solar heating techniques, residents of villages and small towns can have hot water round-the-clock. Sun shines through a panel that heats a water tank by up to 80 degrees Celsius in summer. Even during the winter, the high temperature is kept up to three days. The collector itself has two square meters and can heat up to nearly 200 liters of water per day.
Shramko said people were initially skeptical when he decided to make his first solar collector.
"Some of them laughed at me," he says.
However, some of his neighbors later followed suit. It took him Hr 1,800 ($85) to make and install the collector in 2011. Today it costs around Hr 6,000-7,000 ($280-330). Prices for the same ready-to-use collectors start at Hr 14,000 ($670). It will take some four years to recover the money, according to the project coordinators.
"The main thing is to show people how to do it – then they can construct it themselves and reduce their bills. It's very easy to make a collector once the trainers show you," Shramko, who has built more than a dozen collectors, says.
Shramko said when he installed the collector his gas bills dropped by 30 percent because households usually heat buildings with gas. Even though the collector doesn't help to lower bills drastically, it's helpful in the long run because of price hikes, Shramko says.
The initiative sparked interest not only among households, but also drew the attention of some local penitentiary facilities in Rivne and Volyn oblasts, Maiboroda says. Their management asked the team to conduct workshops and helped them construct solar panels.
Maksym Babaev, an ecologist and a member of National Ecological Center of Ukraine, says households aren't the only ones who benefit from such knowledge. A number of higher educational institutes have also reached out to the coordinators. One of those is the Zhytomyr City Construction College, located some 150 kilometers outside Kyiv, where students now have hot water in their workshops at least 7-8 months per year.
"The students often work with clay there, so it was important for them to have hot water to increase production," Babaev says.
Olena Goncharova, KyivPost